Klaus-Günter Schultz · musikalische Beruf(ung)
2013 bis 2015 bin ich Bassist der Berliner Band Adelity - ERSTE und BESTE Adele-Tribute-Show Deutschlands gewesen nach 13 Jahren bei The Sixty Beats. Davor gab es fünf Jahre Country 'n' Fun mit Tennessee Steamboat.

Einige meiner früheren musikalischen Stationen: Lenz + Leu (Rockmesse, 1972), Independence (Oldies, Rock, 1974), Roland Weitze Quintett (Jazz, 1975), Pete & The Bavarians (Gala-Band, 1975), Polyphem (Funk, Latin, Rock, 1977), Emotionen (Folk-Rock-Jazz, 1980), Tix & Co (politische Musik, 1982), Email Springt (Punk-Rock, 1983), '88 Breeze Cat (Swamp Rock, 1989), Ensemble Neuma (gregorianischer Gesang, 1991) und Phoenix (Rock, 1992).
Polyphem
Christophs Creation:
das Band-T-Shirt
Sigi, ein Freund von Thea Lichtenauer aus Krypton-Zeiten, holte mich 1977 zu Polyphem. Er bediente die Drums, Carl ter Hennepe spielte Solo-Gitarre, ich war für die Rhythmus-Gitarre zuständig. Es gab Funk, Latin und Soul, später auch Rock. Als Keyboarder kam wieder Christoph Neuhäusler hinzu, den Bassisten mussten wir bald "exen", da seine Frau ihm die Entscheidungsfrage gestellt hatte... Ich stieg um auf den Bass, und wir hatten nacheinander einige Solosänger dabei.

Einer (Name entfallen) klang wie David Clayton-Thomas – nach einigen Maß Bier aber nur bis zum vierten Stück. Später stieß ein 17jähriger sauguter Gitarrist dazu – ein Schüler von Studienrat Christoph, der ihn nach einem Jahr wegen Vernachlässigung der Schule aus der Band entließ. Highlights waren unsere Auftritte in Christophs Gymnasium sowie das Open air-Fest 1979 in Puchheim. Ein Jahr später warb mein alter Kumpel Franz Bergmann Christoph und mich für Emotionen ab – mit Polyphem war es aus.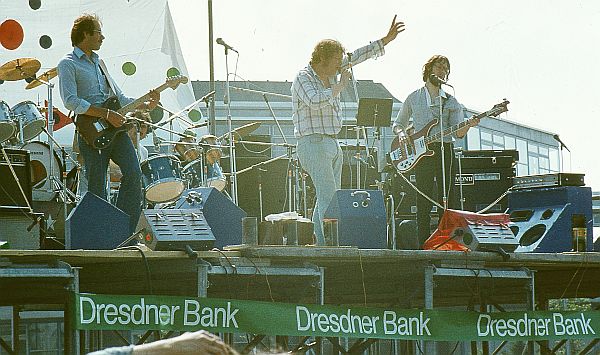 Zyklopen Rock am 23. Juni 1979 am Gymnasium Puchheim
Und so etwa sah unser Repertoire aus (anfangs viel Santana u. ä., am Schluß viel Elvis):

After midnight - Eric Clapton
All shook up - Elvis Presley
All right now - Free
Black magic woman - Santana
Bell bottom blues - Eric Clapton
Child of man - Barclay James Harvest
Cocain - Eric Clapton
Come together - The Beatles
Could you be loved - Bob Marley
Davy's on the road again - Manfred Mann
Desperado - The Eagles
Don't be cruel - Elvis Presley
Europa - Santana
Evil ways - Santana
Feel the need in me - Detroit Emeralds
Good morning Judge - 10CC
Heartbreak hotel - Elvis Presley
Hold on, I'm coming - Sam & Dave
Honky tonk women - The Rolling Stones
Hound dog - Elvis Presley
I can't hold out - Eric Clapton
I'm a man - Spencer Davis Group
I'm a soul man - Sam & Dave
In the ghetto - Elvis Presley
I wanna be free - Uriah Heep
I wouldn't want to be like you - Alan Parsons Project
Jet airliner - Steve Miller Band
Joy - Ekseption
July morning - Uriah Heep
Jumping jack flash - The Rolling Stones
Keep on rockin' - Steve Miller Band
Keep on running - Spencer Davis Group
Land of 1000 dances - Wilson Pickett
Layla - Eric Clapton
Long cool woman - The Hollies
Love me tender - Elvis Presley
Lying eyes - The Eagles
Melting pot - Booker T. & The MG's
Motherless children - Eric Clapton
One night with you - Elvis Presley
Oye como va - Santana
On the nun - Lake
Peaches and diesel - Eric Clapton
Proud Mary - Solomon Burke
Resurrection shuffle - Ashton, Gardner & Dyke
Samba pa ti - Santana
School boy crush - The Average White Band
Sultans of swing - Dire Straits
Sympathy for the devil - The Rolling Stones
Take it easy - The Eagles
Tell her she's lovely - El Chicano
Tequila sunrise - The Eagles
The core - Eric Clapton
The last time - The Rolling Stones
The wind cries Mary - Jimi Hendrix
Three times a lady - The Commodores
Tin soldier - The Small Faces
Trying to get away - Grandfunk Railroad
Waiting for the wind - Spooky Tooth
Witchy woman - The Eagles