Klaus-Günter Schultz · musikalische Beruf(ung)
2013 bis 2015 bin ich Bassist der Berliner Band Adelity - ERSTE und BESTE Adele-Tribute-Show Deutschlands gewesen nach 13 Jahren bei The Sixty Beats. Davor gab es fünf Jahre Country 'n' Fun mit Tennessee Steamboat.

Einige meiner früheren musikalischen Stationen: Lenz + Leu (Rockmesse, 1972), Independence (Oldies, Rock, 1974), Roland Weitze Quintett (Jazz, 1975), Pete & The Bavarians (Gala-Band, 1975), Polyphem (Funk, Latin, Rock, 1977), Emotionen (Folk-Rock-Jazz, 1980), Tix & Co (politische Musik, 1982), Email Springt (Punk-Rock, 1983), '88 Breeze Cat (Swamp Rock, 1989), Ensemble Neuma (gregorianischer Gesang, 1991) und Phoenix (Rock, 1992).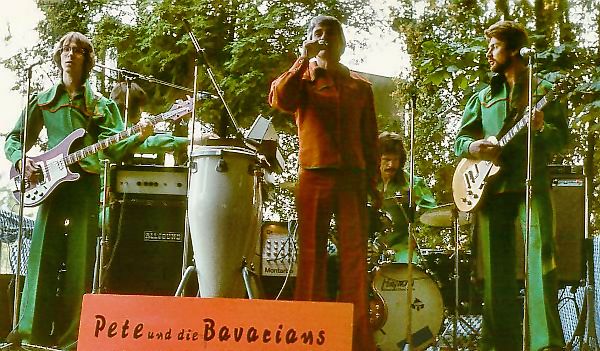 Pete & The Bavarians im Tuchergarten Puchheim 1977
Als die Gala-Band The Bavarians neu entstehen sollten, holte mich deren bisheriger Gitarrist Leo Schulz † in die Band. Mit dabei waren Bandleader und Solosänger Odfried "Pete" Hirschheiter, Harry Tora ("Harry Klug, der Kinder, Frau und Orgel schlug", Fender Rhodes, Hammond M 100 und Mini Moog), Evert van der Wal an den Drums (und an meinem Gewissen...) sowie Elmar Schröck an der Les Paul und den boarischen G'stanz'ln.

Mit unseren Froschklamotten (Pete als oranger Frosch) bestritten wir etliche Galas und Faschingsbälle in ganz Bayern; die Finanzen waren damals noch schwer in Ordnung. Wir ritten auf der Disco-Welle, ließen 1.500 Gäste im Jägermarsch über die Bühne laufen, hatten tolle Medleys (Udo Lindenberg, Harry Belafonte, Schlager-Parodien) im Programm und öfter die Sängerinnen Joan Orleans und Maggie Mae (Klimbim) dabei. 1977 stieg ich aus, denn ich hielt den kommerziellen Musikanteil am Ganzen nicht mehr aus...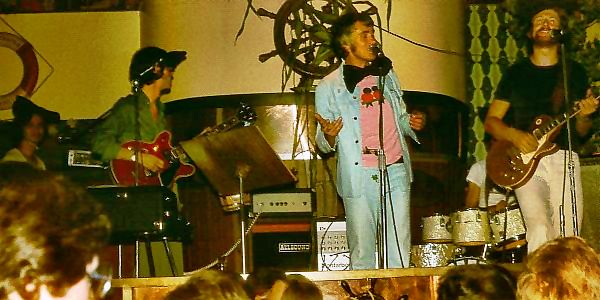 Pete & The Bavarians im Atlantis Gröbenzell 1976
Das folgende Musik-Programm der Bavarians ist unvollständig; ich bekomme nicht mehr alle Stücke zusammen (insbesondere welche Beatles-Titel dabei waren). Die bayerischen und anderen Faschings-Hits habe ich auch nicht aufgeführt.
Act naturelly (The Beatles)
Bad blood (Neil Sedaka)
Daddy cool (Boney M.)
Daniel (Elton John)
December '63 (The Four Seasons)
Ev'rybody's talkin' (Nilsson)
Girls girl girls (Sailor)
Heart of gold (Neil Young)
I am sailing (Rod Steward)
If you go away (Tom Jones)
I've got the tiger by the tail (Buck Owens)
Jambalaya (The Carpenters)
Jive Talkin' (The Bee Gees)
Joy (Ekseption)
This world today is a mess (Donna Hightower)
King of the road (Roger Miller)
Love the one you're with (Crosby, Stills, Nash & Young)
Lying eyes (The Eagles)
Melting pot (Booker T. & The MG's)
Mercy mercy (Booker T. & The MG's)
My ev'rything (Barry White)
Nutbush City limits (Tina Turner)
One of these nights (The Eagles)
Prison song (Graham Nash)
Rhinestone cowboy (Glen Campbell)
Rikki don't loose that number (Steely Dan)
Ring of fire (Johnny Cash)
River lady (Roger Whittaker)
Rock the boat (Hues Corporation)
Rosetta (Georgie Fame & Alan Price)
Ruby, don't take your love to town (Kenny Rogers)
Schnucki (André Heller)
Shame and scandal in the family (Shawn Elliott)
Something 'bout you baby I like (Tom Jones)
Standing on the inside (Neil Sedaka)
Sugar baby love (The Rubetts)
Taka takata (Paco Paco)
Take me home, country roads (John Denver)
The opera (Dizzy-Man's Band)
TSOP (Mothers, Fathers, Sisters, Brothers)
Una paloma blanca (George Baker Selection)
Unchained melody (Righteous Brothers)
Wir sitzen beide am selben Feuer (Peter Rubin)
Yellow submarine (The Beatles)
Yes tonight, Josephine (Johnny Ray)
You ain't see nothing yet (Bachman Turner Overdrive)
You're the reason why (The Rubetts)

Schlager-Parodien

Romeo und Julia (The Travellers; sächsisch)
Dänen lügen nicht (Otto Waalkes)
Wir bauen ein Hotel (Roy Black & Anita Hegerland)

Medleys

Harry Belafonte:
Mathilda / I'm on my way to Kingston Town /
Angelina / Island in the sun / Shake senhora /
Jumping the lion / Banana song

The Beatles:
You can't do that / Lady Madonna / This boy /
Good day, sunshine / Rain / Obladi Oblada /
I feel fine / Long tall Sally

Udo Lindenberg:
Leider nur ein Vakuum / Rudi Ratlos /
Gerhard Gösebrecht / Riskante Spiele